Egg Salad Sandwiches definitely disappear in my house.  My family says Egg Salad Sandwiches are like eating deviled eggs but on bread.  They all love them.  I always use a dozen eggs to make this egg salad, and everyone complains it is never enough.  You may want to read my post on Filling Up Teenagers who have a bottomless pit for a stomach.  Having these Egg Salad sandwiches ready-made to grab and go definitely helps to fill everyone up.  When I make them, my kids eat them for breakfast, lunch, and snacks until they are gone.  They are getting protein and filling their stomachs with something besides junk food.  My teenage son who plays sports really needs extra protein.  If you are looking for a great sandwich or snack to feed your children after school, or really anytime, try to make these wonderful Egg Salad Sandwiches.   I am sure you will watch them disappear as fast as they do in my family.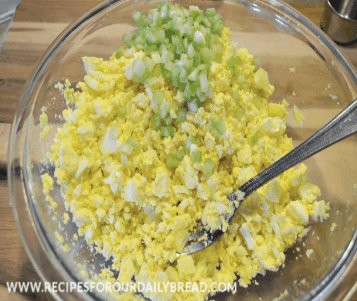 My deviled eggs are so delicious topped with bacon.  It just hit me when I was typing this that I need to add crumbled bacon to this egg salad.  I normally top my deviled eggs with 6 to 8 pieces of bacon that has been fried extremely crispy (I used peppered bacon).  I will add a picture to this post later of my egg salad with bacon.
Egg Salad Sandwiches-Simple-Delicious!
Ingredients
12 hard-boiled eggs, finely chopped or mashed
1/2 cup mayo
1/4 cup sweet pickle relish
1/4 cup finely chopped celery
1/2 teaspoon black pepper
1/2 teaspoon Cajun Seasoning
1/2 teaspoon Paul Prudhomm's Vegetable Magic
Instructions
Combine all ingredients in a medium size bowl. Cover and refrigerate or make sandwiches and refrigerate the sandwiches.
http://recipesforourdailybread.com/2013/03/13/egg-salad-sandwiches-simple-delicious/
This post was written by me, Diane Roark.  I love hearing from you.  Please leave a comment and subscribe on the homepage for e-mail updates of new posts.  If you enjoyed this post, I would be grateful if you add it to social media. 
Blessings Always, 
It is OK to use one of my photos but Please LINK BACK.
I believe the secret to building stronger families that stick together, communicate more, and love each other is to cook together, eating around the table together, play together, vacation together, and share God's love.